The Road to World War II (1978, 2011)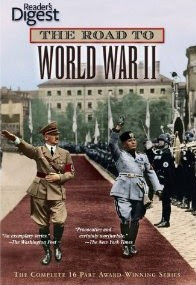 Questar's new DVD box-set, The Road to World War II, is an overdue re-release (with additions) of a 1970's television series which explored the time period between World War I, and World War II, with the notion of examining events "Between the Wars" (its original title.)  It examines how the events of WWI and the post-WWI era lead to WWII…
…and it does a fine job.  An excellent job, even.  This is quite the examination of history during that time period.  A lot of things I never knew about, or realized, or put the pieces together with.  From the Versailles treaty all the way to Pearl Harbor, you'll be surprised just how many events transpired which, now that we look at it, brought about the inevitability of the second war.
I think a great part of this is the credibility involved here.  Made in the 70's (a short 30 years after WWII), you've got commentary from people who either were *directly* involved in these events, such as host and journalist Eric Sevareid, to a myriad of professors and other figures.
Additionally, you'll get some Hearst Newsreels on each disc, which give a short summary and different perspective of either events that were talked about, or weren't….  Either way, the inclusion of these in this set works to its benefit (versus the earlier WWII in the Pacific set, where the European-theater-centric newsreels didn't make sense.)  I'm not sure of the source of these newsreels, the production and voice-over seem to indicate a much later production date, rather than contemporary pieces.  (Which I'd still like to see a good "movietone news" or similar DVD set from the war!)
The series is presented from a US-centric viewpoint.  Meaning that the events described take place starting from the US' short but pivotal role in WWI, up until Pearl Harbor.  But, it does examine all the other happenings between those two events, including the war in Europe, and Japan's expansion in Asia.  This is key, as a lot of these sort of documentaries merely jump in with both feet at Pearl Harbor, as if nothing at all had happened until then.
If you're a military history buff, then this is a must-have.  The films themselves appear to have been rescued, but not restored.  I only mention this because they do appear rather rough at times, and I wouldn't want anyone thinking you're getting anything different.  I don't have a problem with this at all.  This is about preservation mostly, and I'm glad that Readers' Digest and Questar have put this series to disc for the archives, instead of letting the film or tape turn to dust in some closet somewhere.
The Road to World War II officially releases October 18, with a sticker price of $49.99, although Amazon (and likely others) has it for less.
Here's a summary of the episode titles, which should give you an idea of the series comprehensive look….
Disc 1: 1. Versailles: The Lost Peace 2. Return to Isolationism 3. The First Salt Talks
Disc 2: 1. Radio, Racism and Foreign Policy 2. The Great Depression and Foreign Affairs
Disc 3: 1. FDR and Hitler: The Rise to Power 2. FDR and Hitler: The Dynamics of Power
Disc 4: 1. America in the Pacific 2. The Recognition of Russia 3. Latin America
Disc 5: 1. The Italian-Ethiopian War 2. The Spanish Civil War 3. The Phony War
Disc 6: 1. FDR and Churchill 2. Japan Invades China 3. War Comes to Pearl Harbor
Bonus Features: Exclusive Heart Newsreels showcase the era leading up to WW II