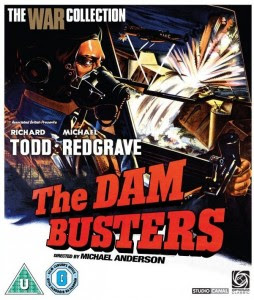 You'd think that a film about developing a one-off weapon that defies all logic would be incredibly un-interesting, right?  Wrong!! The Dam Busters takes a look at one of the more ingenious weapons devised and implemented during World War II, and then follow the men who had to deploy the thing in action….

Alright, so it does start off a little bit dull.  Doctor Wallis (Michael Redgrave) has come up with a weapon that will destroy the incredibly fortified dams which power the Ruhr valley in Germany, the heart of the war machine's industry.  The problem is how to make the bloody thing work.  He devises a series of tests and experiments, which culminate in another series of "live" tests, until his concept is proven.
In proving this concept we also get a fairly accurate look at how testing and experiments should be done.  Not so much of the usual Hollywood shenanigans here, I actually believed it here.  And the rest of the delivery mechanics are shown in a way that also make sense scientifically.  You have to love it.
The concept is what exactly you ask?  Well, in short, he's come up with a bomb that will skip along the surface of the water until it hits the dam, sinks below water level, and blows up there, causing significantly more damage there than other spots.  The problem of course is getting the thing to bounce correctly!
The other problem is how to deliver the thing correctly, so it doesn't fall short, or skip completely over.  That's the other half of this movie:  Guy Gibson's (Richard Todd) bomber wing who must retrain themselves to fly incredibly fast at just the right speed and altitude, and release this weapon at exactly the right time with their specially developed bomb sights….
And yes, its all true.  There actually was such a device, and it was actually used to great effect, which makes this movie a monument to Allied ingenuity, perseverance, and bravery on the part of the pilots who had to pull the thing off.  AND it actually *is* interesting, and not so much in the PBS documentary way either.  You will start rooting for Dr. Wallis and Commander Gibson, and you'll be cheering as the things hit their mark.
A couple of curious side notes.  1)  Fans of the original Star Wars movie might start to feel a little deja vu as you watch the bombing scenes.  In fact these scenes served as both inspiration and reference for the Death Star Trench run scene.   2)  Fans of the film, Pink Floyd's The Wall will instantly recognize a few scenes as having shown up on the TV screen in that film.  Now that I get the reference, those parts make even more sense!
The Dam Busters is just a fun AND educational bit of film, that I can't recommend enough!