Lost Airmen of Buchenwald (2011)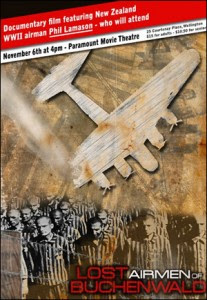 First off, I have to offer up a humble apology to the makers of this film, Lost Airmen of Buchenwald.  They were kind enough to send me a review copy, I watched it, I loved it, I even (I could have sworn it) wrote a review and hit save… and then it apparently never happened, and I can find no trace of it anywhere.  I'm not even sure how I noticed it wasn't here!  But I'm sorry!
Especially given how this film really moved me.  So much so that I had to give up war movies for a time after this.  I think after seeing what these guys went through, and survived, and having the attitude that they do.  It was pretty damned humbling.  I can't remember the exact quote, but one of the final lines of the film was just like, "Shit. Yeah. What is my problem?"  I think I had some petty little thing going on and it sort of put me in my place.
But anyway.  "Lost Airmen" is all about a group of Allied airmen (obviously) who were shot down, narrowly escaped through France, betrayed, and finally on the wrong side of the Nazi prison camps.  Instead of getting sent to the POW camps, which were a relative cinch. (Relative!) they were sent to the absolute pit of hell concentration camps, where they were forced to work and narrowly escaped extermination along with the countless others at Buchenwald.  And further still, the strange unexplainable cover up which they had to endure for so many years.
It is an intriguing story, and one which the producers and director have brought to life in excellent form.  Through interviews with actual survivors**, re-enactments, and plenty of then-and-now photo montages, the pace moves along quite nicely.  You never feel that it gets "boring" or bogged down in any way.  The interviews with these guys are absolutely amazing.  The humor, humility, and to-this-day remembrance they exhibit is probably the most moving aspect of the whole thing.
It looks like the only way to get a copy is to go to the official site, at http://lostairmen.com/  Go do it right now!  I'm giving this an 8.5/10.  Just because I was moved to the point of nearly abandoning this site, and because it really is that good.  (EDIT: Amazon now carries Lost Airmen of Buchenwald!)
** it should also be noted that one of the interviewees (and the group's de facto "leader" throughout their ordeal,)  New Zealand airman Phil Lamason, passed away on May 19th 2012.  His quite-frank and unforgettable character is one of the many gems in this picture.